Body by Vi Challenge | Planning for a Healthy Week
Today has been a busy day! Aiden and I got up and visited a church we've never visited before and then we went grocery shopping. Then, I came home and spent hours cleaning, cutting, packaging, refrigerating and freezing our fruits, veggies, and meats. We did so good! I purchased very few pre-packaged/processed items, and bought a ton of fresh fruit, vegetables, and meats.  Since I've been on the Body by Vi Challenge, I work a lot harder to cut out the processed foods.
Ever since starting the Body by Vi Challenge, I am slowly making changes in all areas of life to improve our health with the help of research and great ideas I find online! Pinterst has definately given me a lot of great ideas!  Moving forward, I plan on using Sundays as the day I prepare for the week, like I did today.  Sometimes making good choices can be such a challenge, especially when you aren't prepared!  Planning and making our meals ahead of time and preparing other items are great ways to save time and money as well.

Earlier this week I planned out our meals and grocery list for the first week of school. I found this great little meal planner on Pinterest! And of course, I decided to try some new recipes this week that I found on Pinterst as well!
With the help of my meal planner, I was very careful to research all the grocery store sales ads online and see where I could find some additional savings on coupons.com.  It was so gratifying to be able to save on so many items the cashier rung up!
Like I said, I came home and went ahead and starting cleaning my fruits and veggies. Recently, I have been cutting up my bell peppers and onions ahead of time and putting them in the freezer! On Taco night this week, I'll just throw in what I need to my recipe and stick the rest back in the freezer. It makes cooking convenient and it's easier to save the veggies from going bad! I cut up and froze some other things and then I made a fruit salad. Aiden loves fruit! I made up a big bowl so he can have some fresh fruit every day with his lunch this week. (My mother-in-law owns a tearoom and they serve fresh fruit daily. She cuts up the fruit at the beginning of the week and then puts it all in some pineapple juice to keep it from turning brown.)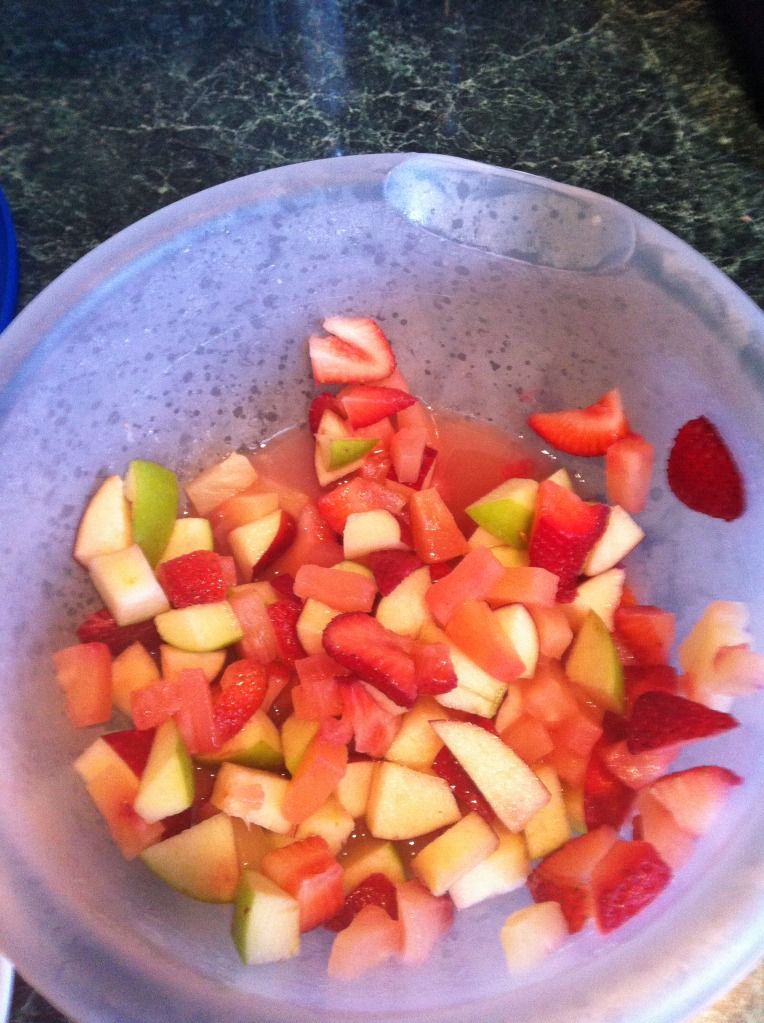 Then I prepared dinner.  I found this Zucchini Lasagna recipe, again on Pinterest, that I thought we should try because it really fits in with our Body by Vi Challenge.  It was fantastic!  Lasagna is one of my all-time favorites and I loved the idea of using zucchini instead of pasta noodles!  Our store didn't have any zucchini so I opted for yellow squash.  I changed the recipe a little, because I built my lasagna in the order I normally would:  Noodles (squash) first, veggie/turkey meat sauce, cheese, then noodles (squash
), meat sauce, and cheese.  You can't even tell there's squash instead of noodles unless you really start dissecting your piece of lasagna!  My 7 year old and I loved it!  The recipe made a huge pan and now we will have leftovers we can freeze and eat later in the week.
Body by Vi Challenge
There are so many ways to really work on your Body by Vi Challenge and planning for a healthy week.  Preparing and finding healthier recipes, like the Zucchini Lasagna, are great ways to stay on your Body by Vi Challenge!